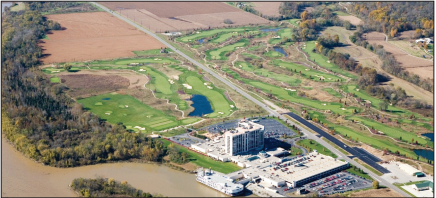 Markland Business Park featured in Business Facilities Magazine
Partnership Brings National Consultant to Switzerland County
Switzerland County's property tax rate is once again among the lowest in Indiana. According to information provided by the Indiana Business Research Center at Indiana University, Switzerland County's median property tax rate is the eighth lowest of Indiana's 92 counties. This is for taxes payable in 2014. The median property tax rate in Switzerland County is 1.18%. 61% of the median property tax rate for Indiana overall at 1.93%.
In terms of Southeast Indiana counties, Switzerland County's median tax rate is second lowest of the region. The Switzerland county median rate is also second lowest among all riverboat gaming communities statewide. 12 Indiana Counties have a property tax rate that is more than twice the Switzerland County rate.
The total property tax rate is the combination of several taxing units including County, Town, and Township Governments the rate can vary from one town or township to another.
The two main factors in determining an individual property tax bill are the assessed valuation of the property and the property tax rate. A change in either of these two factors can raise or increase an individual tax bill. The methods and guidelines for assessing the tax value of property in Indiana are set by the state, leaving very little control at the local level. Unlike many other counties in Indiana, Switzerland County has been able to keep property taxes lower by maintaining a lower rate.
County property tax data is available online at http://www.stats.indiana.edu/