Switzerland County History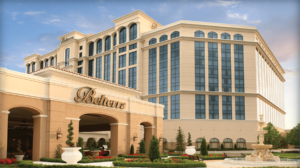 Swiss immigrants, for whom the area is named, and who established the first commercial vineyard and winery in the U.S., in the nineteenth century, formally organized Switzerland County in 1814. Prominent families included the Dufour brothers, who laid out the town of Vevay after its purchase in 1802. Because so many of the original buildings exist today, the entire town of Vevay is listed on the Indiana State Historic Register.
Many changes have occurred over the last two hundred years, including a pronounced shift from agribusiness to service-based industries. Situated along the Ohio River Scenic Route, the County enjoys a history and natural beauty that has made it a popular tourist destination. The County's tourist market has seen a dramatic increase in recent years with the construction of the Belterra Casino Resort and Spa and the nearby Kentucky Speedway.